In this article you may find help how to create a forest for your special event!
---
Are you looking for a unique solution to make your special occasion memorable?
Whether for your school class, for the birth of your child, for a birthday party or wedding, there will always be reasons to create a forest where guests, students, aunts and uncles or friends can plant a tree.
It can be a nice gesture of gratitude, or a sign of eternal connection by planting a tree that will grow over decades and eventually bear fruit.
A lasting gift at that!
---
What is a forest?
🌳 🌳 🌳 Creating a forest means sharing your commitment to the environment with friends, colleagues, family... Or simply having a space all to yourself where you can do something useful and beautiful, positively impacting the present and the future.
🌳 The virtual forest is an online customizable page dedicated to your trees. You can create your own wedding forest, your school forest or a birthday forest, for example! :)💍 🎈🎓
---
How do I create a forest? And how does it work?
👤 To create a forest you will need to have already registered your Treedom account.
By logging in and entering the profile section "Forests", a button will appear: "Create your forest", and clicking on it will start the guided procedure.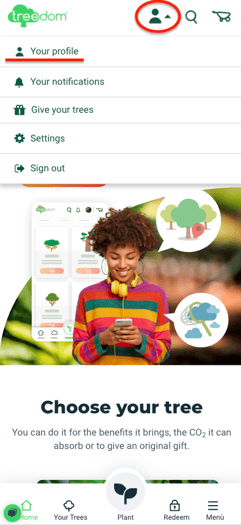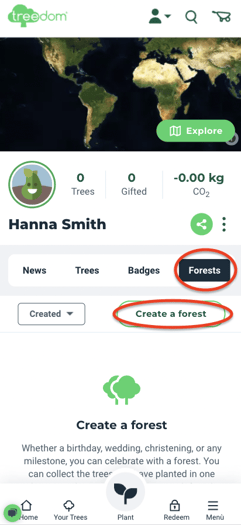 ---
🍃 You can immediately select some details, e.g. the name of your forest, the occasion you are creating it for, e.g. a birthday, a forest for your class, a holiday group, etc.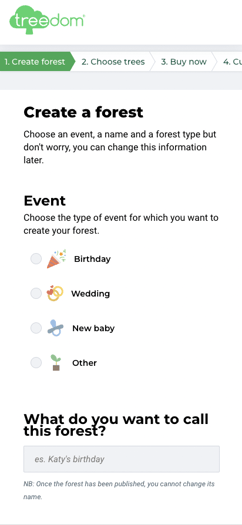 ---
🌱 You can then choose the typology 😊
There are two types of forest, and the type cannot be changed after publication.
1. 🌳 🌴 👉🏽 Just me: it will be a forest visible to everyone, since the site is public and so is every part of it, but only you can continue to plant trees to make it grow.
🎁 Trees in this type of forest can be gifted.
You will be able to give away the ones you put there, but no one can plant a tree in your forest.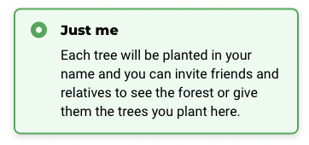 2. 🌳 🌴 👉🏽 Everyone: in this type of forest, anyone you invite to participate in your initiative can plant a tree in it and help you expand it!
❣️ Sharing the forest means that you are its official manager and can change the appearance of its online page, but you will have the pleasure of seeing who is helping you make your forest bigger and bigger.
🎁 Trees in this type of forest can also be gifted.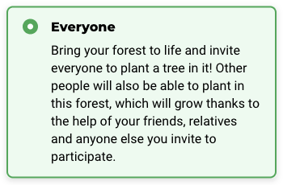 ---
🌱 Now it is time for your very first trees to be planted in the forest.
You can choose between different tree packages starting from five trees.
Decide for one tree package and click ''Continue'' in order to purchase the trees.
PLEASE BE AWARE:
Depending on the seasonality of the individual species, the trees in the package may be planted in different countries. Once planted, you can still see them all on the map on your forest page.
---
🌳 👛 Payment can be made with:
credit card
prepaid card
Paypal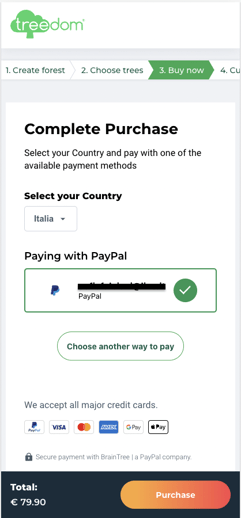 ---
🌳 After purchasing your forest you can customize it with a personal photo and a gallery of images;
in addition you can customise it with a description of your preference!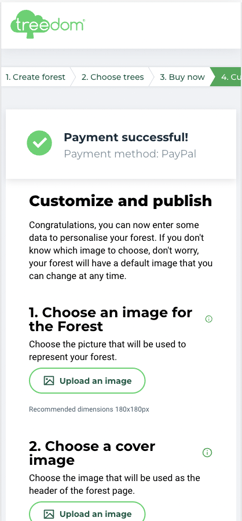 ---
🌱 And here is your forest! 😀 🌳🌲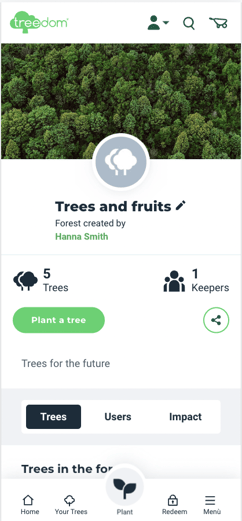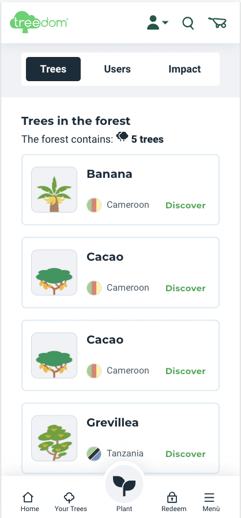 ---
➡️ If you need to change something, you can read this article to find out what you can do!
---
🌲 Can I add trees to my forest after I published it?🌲
✔️ Yes, after you have published the forest you can add other trees inside it.
To do so:
👉🏼 make sure you logged into your account first


👉🏼 and then open the forest page.
Here you will notice the "Plant a tree" button. Click and choose the trees you prefer! 🌱 🍋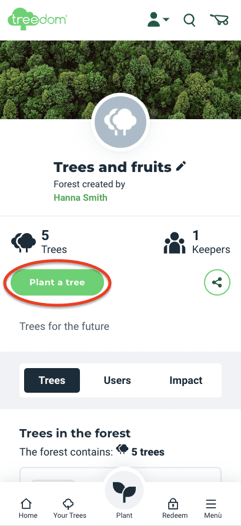 NOTE:
Remember that you can't add subscription trees to your forest.
---
🌲 Can someone else plant inside my forest? 🌲
👉🏼 The people you share your forest with can plant trees inside it only if you created this type of forest:
"Everyone" ✔️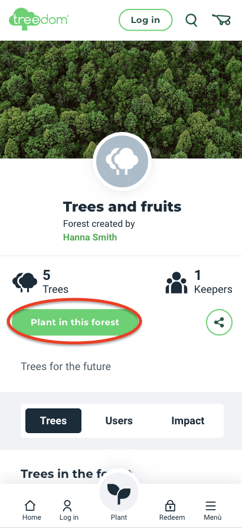 👉🏼 They cannot add other trees if you created this type of forest:
"Just me" ❌
---
❓ Frequently asked questions ❓
🍃 Can I add subscription trees to my forest? 📆
❌ No, subscription trees will remain in your profile. They cannot be placed in a forest.
🍃 Can I give away my forest trees? 🎁
✔️ Yes, at any time!
🍃 Can I gift a forest to someone, e.g. for their birthday? 🎁
❌ No, the forest cannot be gifted.
It remains in the profile of its creator. What you can do is share it with a person or with a group of people of your choice with an URL or on the main social networks.
🍃 Can I (re)name the trees inside my forest? 🏷️
✔️ Yes, you can rename the trees in the forest that are guarded by you.
If you have given them away, only the recipient can rename them.
🍃 Can I plant a tree from my profile inside another forest? 🌲 🔁 🌲
❌ No. If the tree is already on your profile, you can't move it into a forest
🍃 Can I plant 50 or more trees instead of choosing the kit (5-10-20 trees)? ➕🌳
❌ No, to open the forest it is necessary to follow the procedure and buy one kit.
After, you'll be able to add any tree you want at any time!
💡👉🏼 Unless you would like to open a Business account.
➡️ Click here to discover the advantages of having a Business account!
🍃 How can I customize my forest?
If you want to customize your forest, we recommend reading this detailed article:
---
---
💚 We hope this article has been useful to you, if you need any further information please do not hesitate to contact us!

Send an email to info@treedom.net