Find out how to gift one or more trees to someone special!
---
🎁 In this article we will explain how to gift a tree step by step 🌳
---



❣️ 👤 First of all make sure you are logged in to your personal account.
Your tree(s) is in your profile, in the section 'Trees - Owned'.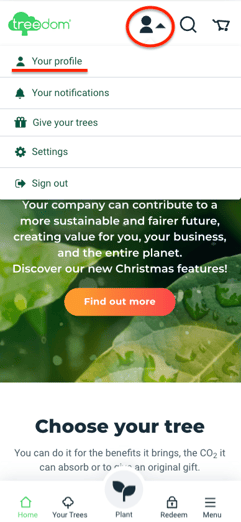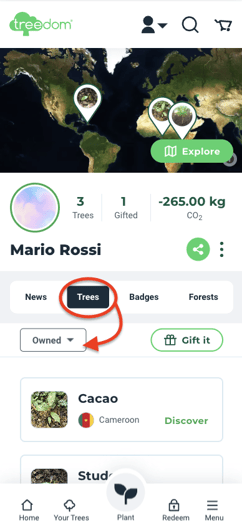 PLEASE NOTE ❗👇🏼
If you have already done the procedure and your tree's status is "On delivery", great!
Your tree has already been set as a gift.
Find out more about this at the end of this article 😊 ⏬

🍃 💝 You can give a tree or several trees of your choice to the same recipient by doing the gift procedure once.
🍃 👥 👥 Of course, you can also gift each tree to a different person!
🍃 👉🏻 Also rembember that you can only give away purchased trees and not those received as gifts.
---


🔹 When you click on the "Gift it" button, the gift procedure begins.


🌱 Now enter the name of the person you want to give the tree to.
🌱 Select one (or more) trees you want to give to that person. No matter how many trees you select, the recipient will receive them all together.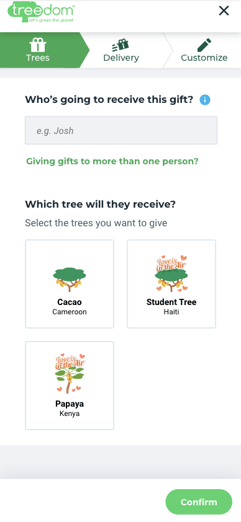 🌱 📜 📥 💬 Now you can select your preferred delivery method.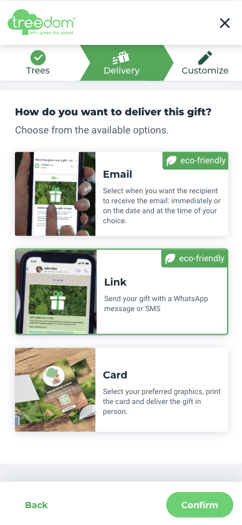 If you are not sure what the differences between the delivery methods are, you can find more information here ⬅️

🌱️ ✍️ ❣️ If you wish, you can also write a dedication for the recipient!
It is private and only visible to you and the person you gave the tree to.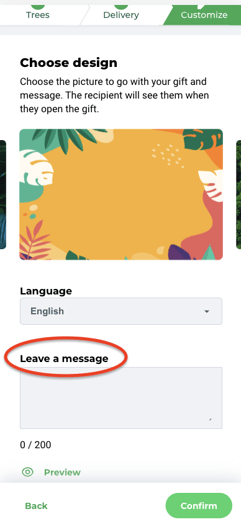 PLEASE NOTE
The message written during the gif process will not appear on the greeting card, email or link: it will be visible on the online page of the tree.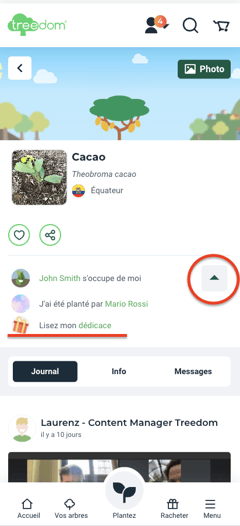 ---


⚠️ ❓ Why is the tree I gave away still in my profile?
➡️ Click here to read the article❣️


The recipient will find the tree when he / she redeems it, i.e. actively accepts to receive it.
Until that moment It will be in the "TREES - OWNED" section of your own profile, marked as "ON DELIVERY". After the redeem, you'll find it in the "TREES - GIFTED" section instead.
---
➡️ And if you think you made a mistake, don't worry!
You can cancel the gift procedure and change it without having to buy the tree again: read this article to find out more!
---



ℹ️ Further information 🎁 🌳
🍃❓What does "redeeming the gift" mean?
🍋 Redeeming means actively receiving and accepting the tree: the recipient who redeems a tree becomes its "keeper" 🌳 🫶
Once planted, the tree will appear as planted by you (the purchaser) and cared for by the recipient.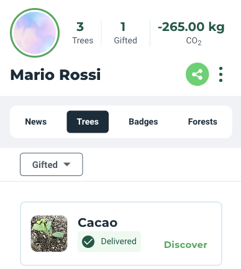 🍋 After redemption, only the recipient will be able to give a name to his/her tree.
🍋 You will both receive updates on the project the tree is part of, unless you change the notification settings.

➡️ Click here to find out how gift redemption works.
---
---
💚 We hope this article has been helpful. Don't hesitate to contact us if you need it!
Write an email to info@treedom.net
---