Want to make your forest even more beautiful? Do you need to change something about it? Here you find help.
---
⚠️ What you need to know before you begin ⚠️
👉🏽 Only you who created the forest can customize its online page 👈🏽
👉🏼 To customise a forest page, you must have already created one 👈🏼
---
🌳 After logging into your account with your credentials, to make changes in your forest please open your profile page.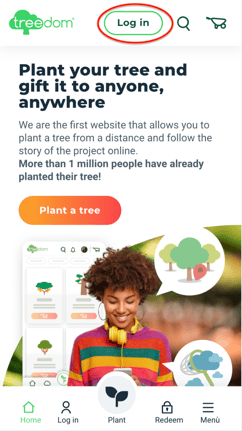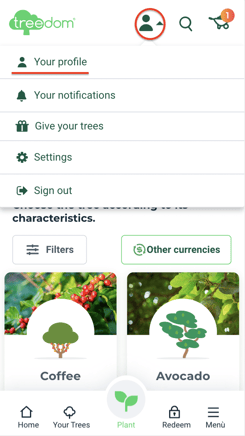 🌳 Then, go into the FORESTS section and click on the button "Visit the forest"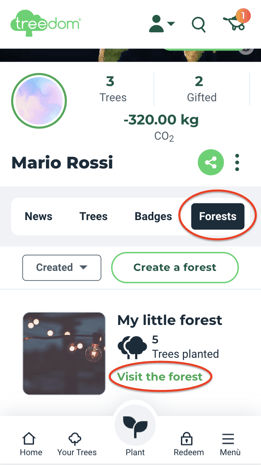 🌳🌲🌴 Here you will notice a few buttons that you'll need to press on to personalize your forest 😊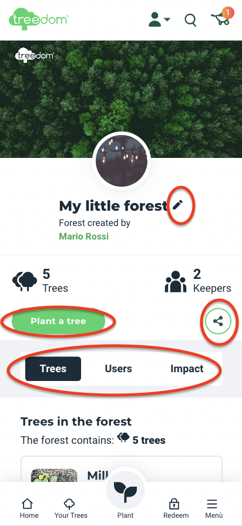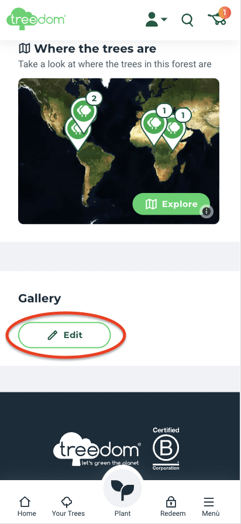 ---
🔍 Let's go deeper 🔎
1. Pencil ✏️ + "Edit"

You need to press on the Pencil or the "Edit" (inside the gallery section) button in order to:
🌱 change the images and add/change the description.
For example, you can choose your favorite photograph and write something to thank your friends and family 🤗 They will notice both once they will open the forest page.
In the gallery you can upload the photos that rapresent the occasion you created your forest for.
Remember to save before you leave!
---
2. Plant a tree ➕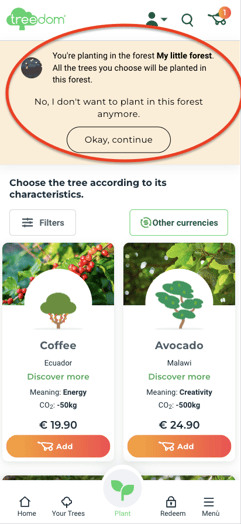 When you press on "Plant a tree" inside your forest page, you'll go to the e-commerce, where you will find a warning explaining that
🌱 you are going to plant trees in the selected forest.
Add the tree or trees of your choice to the shopping cart and, after the purchase, you will find them in the forest.
---
3. Share your forest 🌐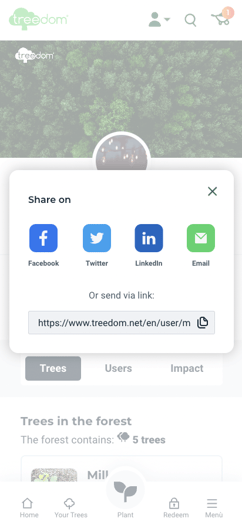 Sharing your forest means showing it to colleagues, friends, family, and why not, to all your followers 😀
🌱 Choose whether to share it via link or on social platforms.
---
4. Menu 💠
🌴 TREES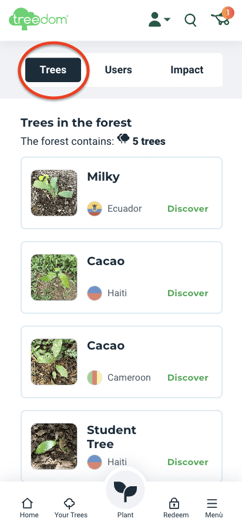 🌱 Here you will see the list of trees that make up your forest,
including those that, if you have created a forest open to all, were planted by others.
_________________
👥 USERS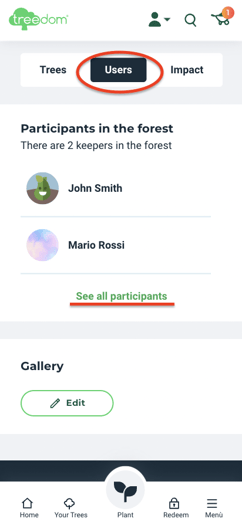 🌱 This is where you can see who is planting trees in your forest.
👉 If you have created a closed one, you will be the only "user". Unless you have gifted the trees in your forest to someone! In that case, the name of the recipient will appear.
👉 If you have created an open one, you will see who besides you has planted a tree in your forest.
_________________
💚 IMPACT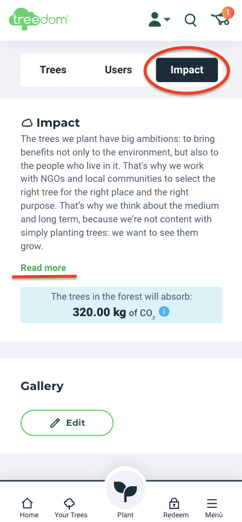 👩‍🌾 🌱 Learn more about the social and environmental benefits of trees in your forest by reading the information in this section 💧 🐐
---
PLEASE NOTE:

Please be aware, that the name of the forest and the decision who is allowed to plant cannot be changed.
---
---
💚We hope this article has been useful to you, if you need any further information please do not hesitate to contact us!

Send an email to info@treedom.net
---