Here you will find details about the payment methods we accept! You would like to plant one or more trees but you're not sure how you can purchase them? Read below to find out! 🚀
🌳 Payment methods 👛
To purchase one or more trees on Treedom website or to simply activate a subscription, you can pay in 3 different ways: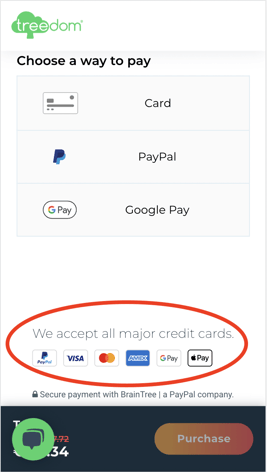 ℹ️ Debit Cards that we accept:
- Visa
- Mastercard
- Maestro


ℹ️ Credit Cards that we accept:
- Visa
- Mastercard
- American Express
ℹ️ Pre-paid card (ex. Postpay)
They can be used in a similar way to debit and credit cards but the person doesn't need an account to have one. Instead, they're loaded up with cash as and when needed.
ℹ️ PayPal
Just link your bank account or your credit or debit card to your PayPal account!
---
🌳 Where do I have to write my payment data in order to make the purchase ⁉️
Once you have placed the products in your shopping cart, open it and click on "Continue".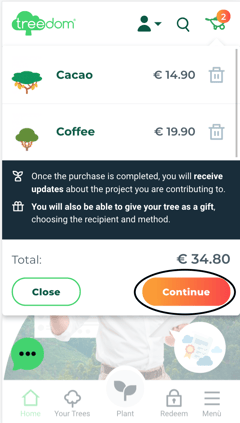 Then you can enter the data according to the method you choose. 😀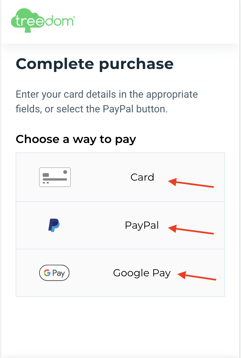 ---

1. Card 💳
By clicking on "Card" you will be able to enter the details of the prepaid or credit, or even debit card you will use to pay, then simply proceed by clicking on "Purchase".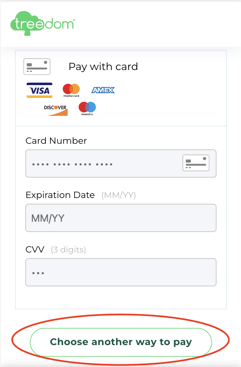 .
..Or choose another payment option:
---
2. PayPal 🔹
When you click on "PayPal", this yellow button will initially appear.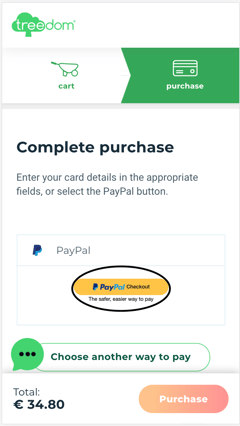 You can click on it, so then you will be able to fill in the space with your data and proceed with the payment.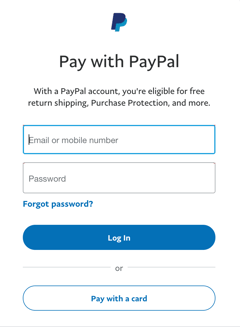 Do you also accept bank transfers ?!
❌ No, we don't accept bank transfers.
---
---

💚 We hope this article has been useful to you,
if you need any further information please do not hesitate to contact us!
Send an email to info@treedom.net
---