You received a Treecode, or you saw this word on our website and you're not sure what it means? Read below to find out!
We explain what Treecode is, when it should be used and when it should not be used.
1. What is a Treecode?
💝 A Treecode is quite simply a gift code that you can receive from:
Friends, family or acquaintances 💌
Companies that collaborate with Treedom 💼
Influencers who collaborate with Treedom 💫


🌳 The Treecode consists of 9 alphanumeric digits written in capital letters.
Using it, you will receive one or even more trees! 😍💚
2. The Treecode is to be used only when you receive a gift and redeem the tree for the first time
🌳 You will only need to use the Treecode once!
Already redeemed your gift and want to find out how to see all of your tree information and updates? Click here!
🌳 How do I receive a Treecode?
From friends, family or acquaintances 💌
If people you know send you a Treecode, you will receive it via email, sms or gift card.
Click here to find out how to redeem your Tree!
Companies might send you a gift via email, with a Pop Up Card on in other ways!
For example, some companies do write the Treecode behind the receipt that they give you after your purchase in their shops.
NOTE Every companies has its own method, so we suggest you always get in touch with the company's Customer Care service to ask for details.
We collaborate with lots of influencers all over Europe!
Do not miss their updates, they might have created or create their Treedom forest very soon... and they might gift you a tree! 😉🎈
If you're not sure you've received your Treecode, we suggest you check your email and junk mail, and that you've read all the information about the gift on the website of the company, the social pages of the Influencer, or simply the message/email/gift card that you've received.
3. The Treecode should not be used if you have already redeemed your tree.
🌳If you get the error "The Treecode entered is incorrect or no longer valid.", it may mean that you have already redeemed your tree!
If you can't redeem your tree read this article for more information ⬅️
🌳 Already opened and redeemed the gift and want to know how you can follow the updates?
If you've already correctly redeemed the gifted tree(s), you don't have to click on the link or email you received again, nor do you have to re-enter the Treecode if you received a ticket! You'll simply need to log in with your credentials.


If you're unsure how to redeem your gift, read this article! ⬅️
Follow these steps:
Go to treedom.net
On the homepage you will see a 'Log In' button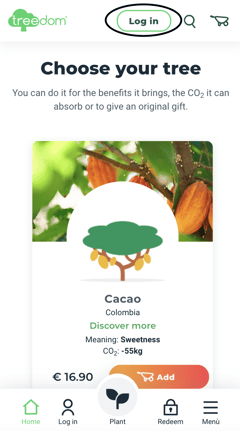 Click on it and a window will open where you can proceed by entering the email and password, or any email linked to your Google or Facebook account, used during registration, while redeeming the gift.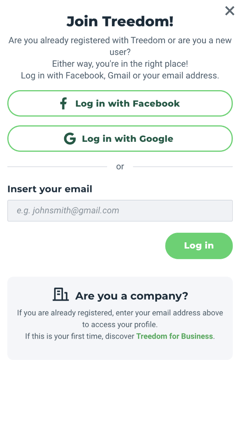 Now you have logged into your account.
You will be able to follow the tree directly: click on the silhouette at the top, a drop-down menu will open and click on 'Your Profile'.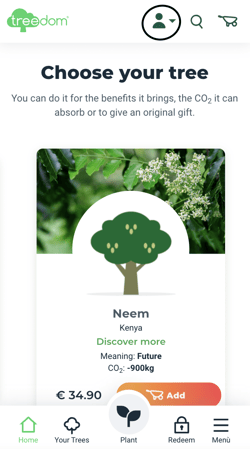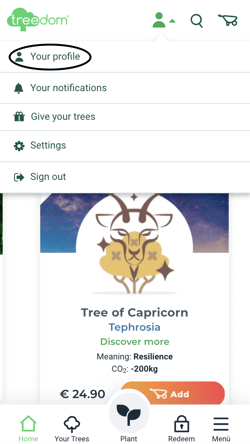 You will see your tree(s) in the 'Trees - Yours' section.
To find out all about the tree page and make any customizations read this article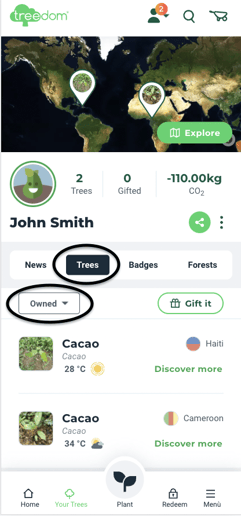 4. !The Treecode is not a Discount Code!
Note: Please do not confuse the two codes that we have. While the tree code is a number of your tree gift and is only used for redemption, a discount code is just to be used when you buy a tree. When you click on "plant a tree", choose a product, then in the purchasing process you can apply this code to get a discount.
---
💚 Do not hesitate to contact our Customer Care team if you struggle :)
Write to info@treedom.net if you're in need!
---