You got your very first tree and want to check out the specific tree profile? This article give you a first insight.
🌳 On Treedom, each tree gets its own tree profile. This allows each person to follow the project in which their tree is located. It also creates a high level of transparency.
! By the way, be informed: You will be regularly informed in this tree profile about the projects in which your trees are growing and receive useful information. However, after planting your tree in the agroforestry system, one tree-photo will appear (and one photo of the tree nursery). You will not receive annual photo updates of the tree !
The tree profile is divided in the following sections:
🌱 In the section "Diary" you can find regular updates of your tree. So anytime there are news out of the project or new posts regarding the tree species for example, you will be able to read it in the diary. You can have more information about agroforestry projects and Treedom's purpose. ⬅️
Besides that, you see a post if your tree gets a name/the name changes, you start to follow the tree or there is a message on the tree.
🌱 In the section "Personal ID" you can find a little fact sheet regarding the tree you have. You can see for instance the individual tree ID (so that double counts of trees are not possible), the scientific name of your tree or the local uses of your tree.
🌱 You will also see a map which shows where exactly your tree is located. As long as the tree is in the nursery, you can find the geo coordinates of the nursery in this section. As soon as your tree is transplanted into nature, you will see the coordinates of your specific tree.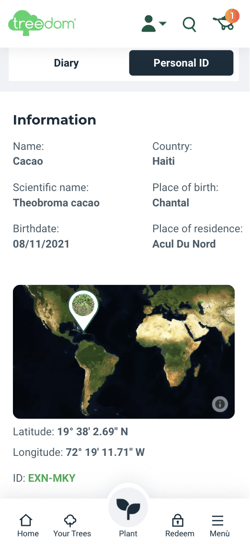 🌱 "My CO₂" shows the amount of CO₂ that your tree has already absorbed up to now. More information in this article. ⬅️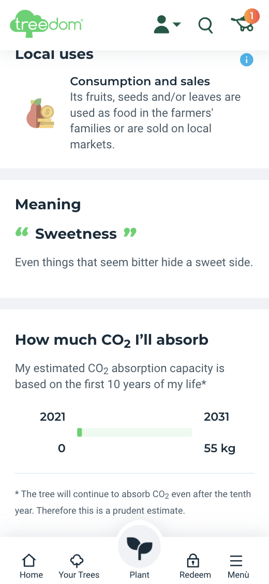 ☀️🌙 Above the single sections you see a graphic of your tree and a tree message (in case there is one).
Besides that, you find the name, the tree species and the country of your tree 🌍🌎🌏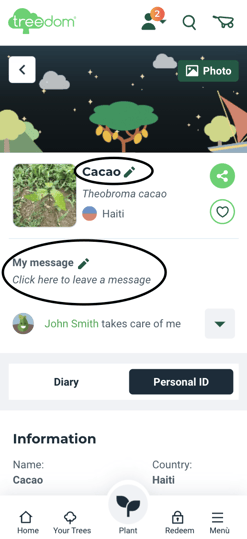 💚 We hope this article has been useful to you, if you need any further information please do not hesitate to contact us!
Send an email to info@treedom.net