Are you experiencing difficulties while trying to redeem your tree? We're here to help you!
🆘You have tried to redeem the gift but it is impossible:
<< The site says that it has already been redeemed by someone else, or that the Treecode does not exist! What can I do? >>
In this case it is possible that:
🌳 You have already redeemed this tree!
The Treecode, as well as the email or link, are no longer valid after redemption. So you simply need to log into your profile to view your tree 😀💡 You know you are successfully logged in when you see this figure in the upper right corner.
The tree shows up in your profile in the section "Tree" 👉 "Owned".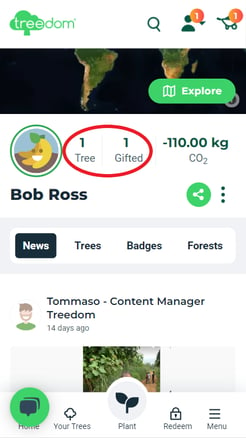 🌳 The sender has accidentally cancelled the gift and you cannot receive it.
In this case, we advise you to write an email to info@treedom.net so that our Customer Care team can check and support you.
🌳 You may be logged in with the account you used to create this gift!
It's easy to forget to log out of your account, so we recommend that you try doing so using the "Sign Out" button that you can see in the drop-down menu at the top right: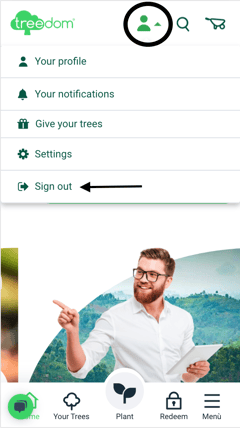 If you haven't redeemed the tree yet, please check the Treecode and see if there is any spelling mistakes in it 📝
You could also ask the person who gifted you the tree if she/he can double check the Treecode, the person can in fact find it on its profile, clicking on "Manage" which appears on the tree 😃
🌱 Try now using the Treecode, or the email or link you received, and everything should be fine!
💚 Do not hesitate to contact our Customer Care team if you struggle :)
Write to info@treedom.net if you're in need!