Want to know more about a Horoscope Tree? This article is the right one.
When you plant a Horoscope Tree, you will get every month a horoscope for 12 months in total.
♈♉♊♋♌♍♎♏♐♑♒♓⛎
💝 You can also gift a horoscope tree, then the receiver of the gifted tree will get the horoscope. The horoscope will be visible on the tree profile every month and you get an email in case there is a new horoscope (and you activated email notifications) 😊
🌳 By clicking on the name of the Horoscope Tree you can get more information regarding the tree species and so on.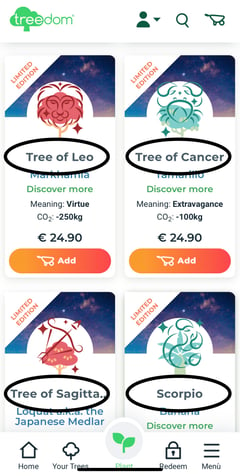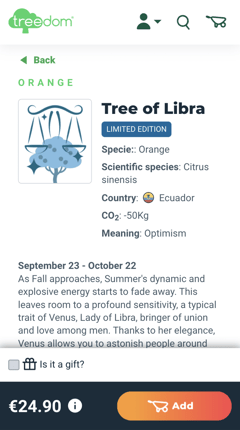 ---
❓Frequently asked questions❓
🌱 When will I receive the first horoscope update?
You must monthly horoscope updates that appear in your tree profile. This offer is for a total of 12 months. After that, of course, your tree will still be in your profile as usual.
NOTE:

If you buy a horoscope tree and give it to someone as a gift e.g. a month later, the redeemer will still see the first horoscope update in the tree diary (which he/she missed).
But note that the offer is valid for 12 months from the purchase of the tree.
🌱 How often and how long will I receive the Horoscope of the trees?
The Horoscope of the Trees lasts one year and has a monthly frequency. From the moment you plant it, every month, for twelve months, its Horoscope will be published on the tree page. The owner of the tree will receive notifications about these updates.
---
---
💚We hope this article has been useful to you, if you need any further information please do not hesitate to contact us!
Send an email to info@treedom.net
---