Communicate an important message!
Index:
1. What does it mean to create a corporate profile?
2. Starter and Premium solutions
3. Creating the profile
🌳 1 🌳
🌱 What does it mean to create a business profile?
🌲 Whether it's a corporate event or a new product launch, surprise everyone with a tree!
🌳 🌳 🌳 To create a business profile means bringing together all the trees you plant and decide to gift on a single page online.
You can customize and enrich it with text and images, even integrate it with your website, and it will bear your logo 💫
🌎 🌍 🌏 Every tree in your business profile will have:
🔗 its own web page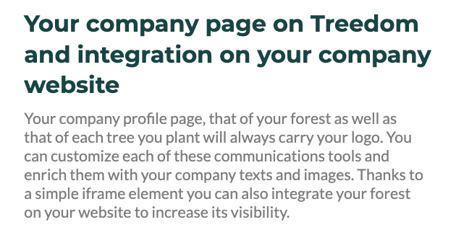 🔗 and its own Diary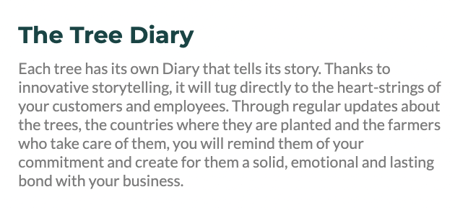 through which it will be possible to follow the story of the project and the tree itself, from the nursery to the geolocation of the tree to its planting.
🌱 🧑🏽‍🌾 📰 In addition, we will post photographs, videos and articles in the Diary that also talk about the community of farmers who care for the trees. You will be able to follow all updates by going to the "Stories" section of your profile: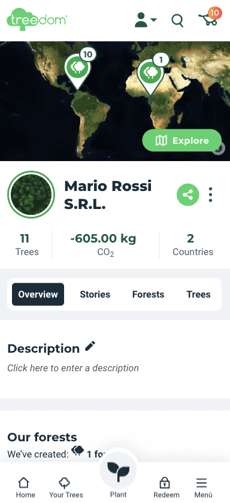 .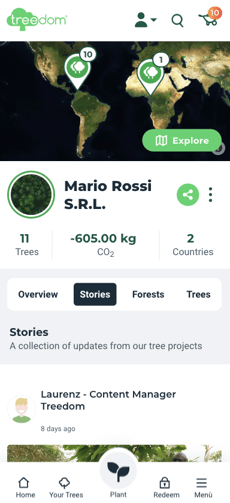 💬 🎁 Those who care for one of your trees will receive a transparent narrative of the project's activities from the very beginning and will be kept up-to-date on what is being accomplished through their efforts!
We will help you communicate your commitment to the environment with a concrete and high-impact gesture 😊
➡️ Click here to access the section of the Treedom website dedicated to the services we offer to businesses and find out more!
---
🌳 2 🌳
🌱 I know that I can create a business profile with two different solutions: Starter and Premium.
How can I choose the best one for me?
🌳 👉 The starter solution includes the creation (free of charge) of an autonomous profile by filling out this form.
What does it include?
business profile (without forest page);

possibility to independently purchase individual trees or the available packages (min. 15 trees per cart);

some ready-made, non-editable media content downloadable from profile after first purchase;

possibility of gifting trees with procedure directly from the site to be done tree by tree.




🌳 👉 The Premium Solution is ideal for those who want to carry out a larger project.
What does it include?
lower unit prices per tree;

profile and tree management on our behalf;

creation of both the company profile and a digital forest to highlight and tell the story of your initiative;

communication support with video, graphic materials, and written content;

tree gift assistance: we will provide you with all gift codes that you can choose to use on one or more occasions to directly engage customers, employees, stakeholders.
🤔 Not sure which of the two solutions to choose?
Choosing the right solution for you does not depend on the size of your company, but on your level of commitment, how complex the project you want to implement is ✨🌲
There are small companies that have chosen the Premium solution!
➡️ If you want to find out more about corporate accounts, click here.
---
🌳 3 🌳
🌱 How can I create my own business profile?
👤 To create a business profile, you must first sign up for a profile in the part of the site devoted entirely to collaborations with companies.
🍃 To access it, you will simply click on the "Are you a company?" button. from PC 🖥️

📱or from a smartphone on "Sign In" and then on "Treedom For Business."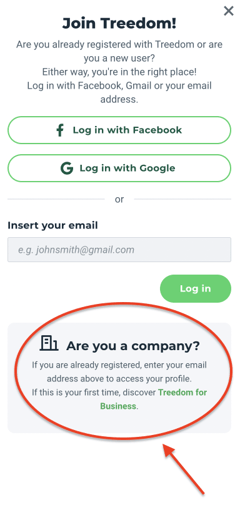 Next, enter the "Start Now" section;
🖥️If you connect with your PC:

📱If you are using a smartphone instead: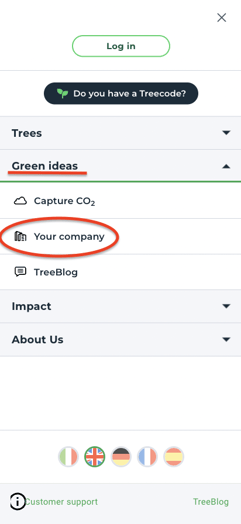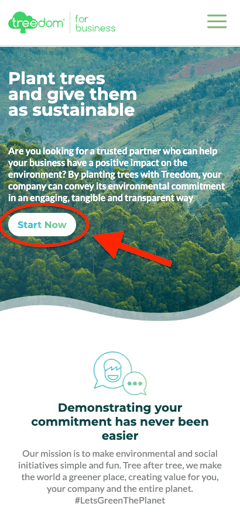 ---

❓ Frequently asked questions ❓
🥑 Can I choose where my trees will be planted?
It depends on the plan you choose.
👉🏽 In the Starter solution, each tree available for purchase already indicates in which country it will be planted. You can visit the "How we do it" section of the website for more information on how Treedom selects its forestry projects.
👉🏽 With the Premium solution, because the project we build together is more complex, we will decide together where your trees will be planted, but it will always be in our existing projects.
🥑 Can you plant in my land so that my employees can take care of the trees?
❌ No, our trees are all planted in our partner project countries, the projects are managed by our partner NGO and local partners, and the trees are owned by the farmers who own the land.
ℹ️ You can find more information here.
🥑 I want to change the text/cover of my forest. Can you provide me with my login information?
Premium profiles are managed internally by our dedicated sales team. Contact us, we will be happy to make the modification for you!
---
Our dedicated team is available to guide you to the best solution for your business!
For more information, email us at business@treedom.net and you will be contacted as soon as possible!
---