A detailed description of the different profile settings :)
🔹 If you click on the profile icon after logging in, the Settings button will appear.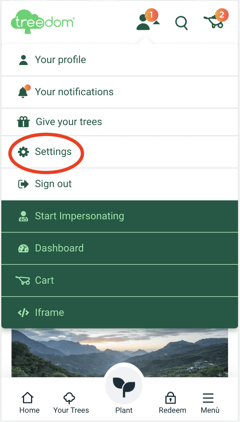 ➡️ The settings of each Treedom account are divided into different sections, such as: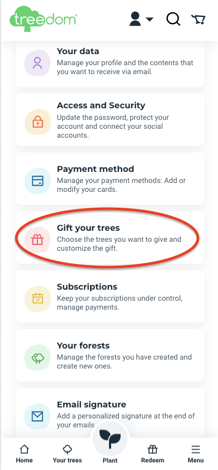 👤 Your data

🗝️ Access and security

👛 Payment method

🍃 Donate your trees

🍋 Subscriptions

🌲 🍒 🌱 Your forests

💌 Signature email






---


🌳 👤 By clicking on "Your data"
you can edit all demographic data such as first name, last name, date of birth, communication language, etc.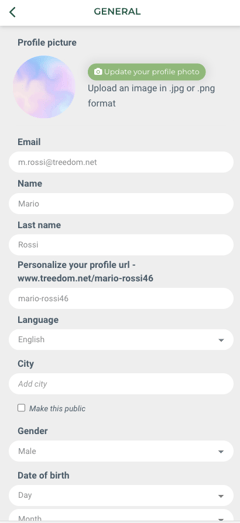 👉🏼 You can also change your email address if you want to link your Treedom account to a new, different one.
👉🏼 And you can choose whether to make your date of birth public or private and whether you want search engines to refer to your profile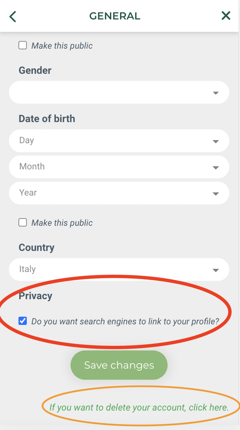 👉🏼 Still under the heading Your data, you can also delete your profile:
just click on 'If you want to delete your account, click here'.
---
🌳 🗝️ In the "Login and security" section
you can change your password and/or decide to change your access mode and connect your Treedom account to: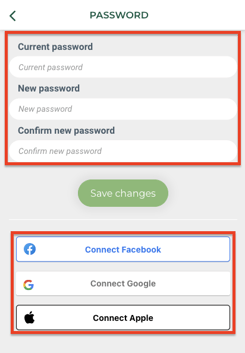 Facebook
Google
or to your Apple ID
---
🌳 👛 By clicking on "Payment method" you can check if you have saved a payment method in your Treedom account.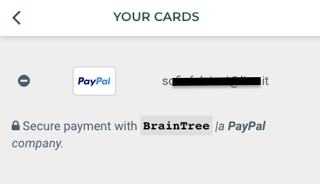 ---


🌳 🍃 Then there is "Gift your trees":
click on it and start the gifting process 🤗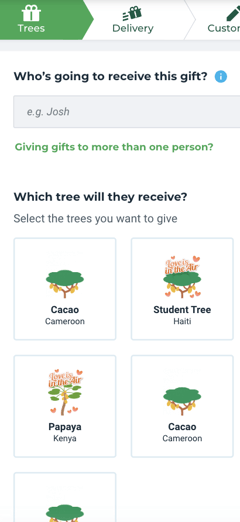 ---

🌳 💌 In the Communications section
you can select which communication topologies you would like to receive from Treedom.
You can change your choice whenever you wish!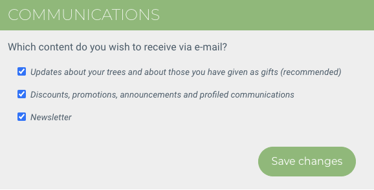 ---
🌳 🍋 Subscriptions also have a dedicated section:
👉🏼 check here if you have a subscription that is still active, its payment method and the date of the automatic monthly renewal 🌴 💳
👉🏼 if you do not have a subscription you will simply see the words: 'You have no active subscriptions':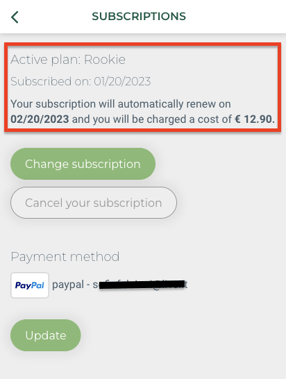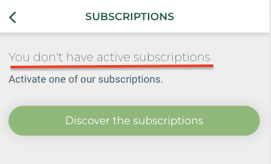 ---
🌳 🌲 🍒 🌱 The we have a section called "Your Forests"
where you will find a list of the forests you have created and/or those in which you participate.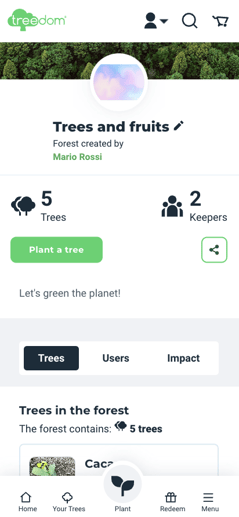 ---
🌳 💌 The last section is entitled "Signature Email"
This function offers you the possibility of downloading an image to add to your signature, in your personal email inbox, with which you can communicate your commitment to the environment.
To discover it, click on the "Download" button, then follow the instructions given in the installation guide 🤗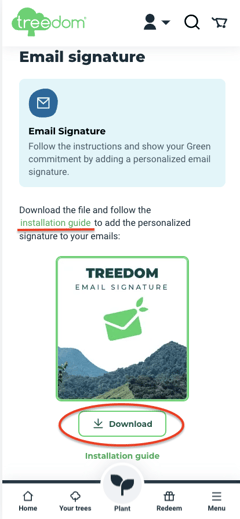 ---
---
💚 We hope you found this article useful, if you need any further information please do not hesitate to contact us!
Send an e-mail to info@treedom.net
---