In this article you will learn how to purchase a tree in order to gift it.
🌳💝 Gifting a tree is simple! Firstly you will have to pick it, then purchase it, and finally give it away 😀.
In this article we will explain how to purchase and gift a tree step by step.
But if you prefer, you can watch the quick videos instead!
🌱Select the one you would like on our page dedicated to planting a tree.
You can help yourself by selecting the "filters" and picking the trees according to uses, countries, meanings... 🌎🌍🌏
Once you have chosen a tree that you like, you can find out more about it by clicking "Discover more", the tree's information page will open and you will be able to find out more about its properties 🔍.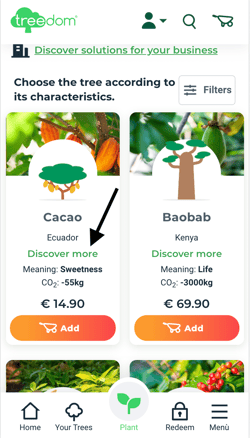 🌱Once you pick your tree you can add it to your cart, then simply select "Continue".
🌱After clicking continue you will have to flag the sentence "contains at least one gift", then click on "Continue". 🎁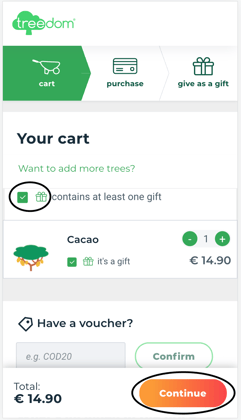 🌱You will be sent to the checkout where you will firstly have to create a Treedom profile, then purchase the tree and gift it.
👤 You will be asked to make a Treedom profile. You can also choose to log in with Facebook or Google.
🌱After creating your profile you will be redirected to the checkout where you can purchase your tree using a credit card 💳, a prepaid card or PayPal 🔹. For more information about the Payments Methods click here.
🌱After purchasing the tree, you can choose between 3 delivery methods.
And give a look at the quick videos here below if you prefer.
💬 By Message: send it right away!
Send your gift whenever you want via WhatsApp, Messenger, SMS or private message on whichever social network you prefer. By copying and pasting the link generated for you.
📥 By Email: we'll take care of it!
We'll send it via e-mail to the address you indicate, on your preferred day and time.
✍🏽Choose a greeting card from the ones available on the website, print it and deliver it yourself.

If you would like more information about our delivery methods click here ⬅️.
NOTE
The gift will be delivered only when the recipient accepts to receive it.
At that point the tree will appear in the "Gifted" section of your profile. Until then, the tree will remain in the "Owned" section of your profile, with the text ''On delivery''.
⚠️ Did you make a mistake?
No worries, you can simply cancel your gift in progress and fill out the form again, without repurchasing the tree! 😀
Make sure you are on the 'Your Profile' page in the 'Trees' section. Under the'Owned' section, look for the tree you have chosen to gift.
Then click on 'On delivery' next to the tree.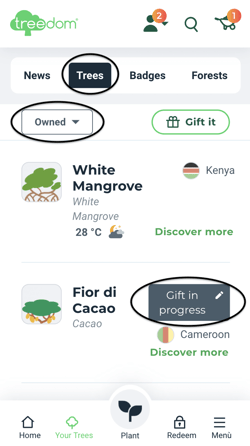 You will simply have to select "Cancel gift process". Only the gift process will be cancelled. The tree you purchased will not be cancelled.
💡 Now, you can reset the gift information directly from your profile. If you want to know more click here. You can gift your tree whenever you prefer.
If you need more informations don't hesitate to contact us!
Send an email to info@treedom.net