You got a tree as a gift? Nice! We hope you like it. This article helps you to write a message in order to say thank you to the person who gave the tree to you.
👤 🌳 Please go in your profile and click on the specific tree, which you got from the person who you want to say thank you.
If you are not sure how to login, you can find help here. ⬅️
✍️🎁 In the section "My message" you can easily write a text on the tree, thanking the person who gave you the tree.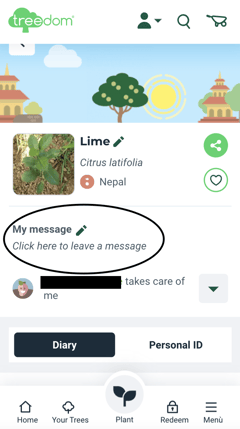 🔐After you wrote the text, you can also decide if a message is private or public. A private message can just be seen from you and the person who bought the tree 👥
A public message can be seen from everyone who is on the specific tree profile 👀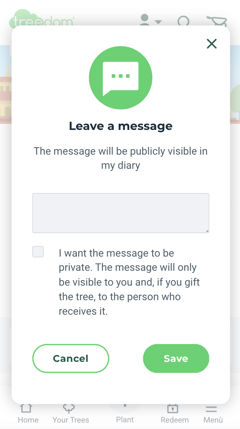 ✔️If you click on "Save" your message will be displayed on the tree.
💚We hope this article has been useful to you, if you need any further information please do not hesitate to contact us!
Send an email to info@treedom.net