Surprise your team and your customers with a tree!
Index:
1. What it means to gift trees as a business
2. How to gift trees from a business account
🌳 1 🌳
🌱 What does it mean to gift trees with Treedom?
With Treedom you can bring your business profile to life, which will have a positive impact on the environment and people.
🌳 🧑🏿‍🤝‍🧑🏽🧑🏼‍🤝‍🧑🏾 We are an international team that helps small, medium and large companies communicate their commitment to environmental protection and biodiversity by planting trees and giving them as gifts on special occasions.
✉️ You will be able to engage customers and employees in an easy and fun way!
Our team will help you find the most suitable and effective solution.
Thanks to our interactive platform, one can follow the story of the project of the tree you planted online.
🌍 And so, click by click and tree by tree, we make the world greener by generating value for you, your company and the entire planet.
➡️ Learn more about business gifts by visiting the dedicated web pages of our website:
---
🌳 2 🌳
🌱 I would like to give trees to my customers and employees. How can I do this?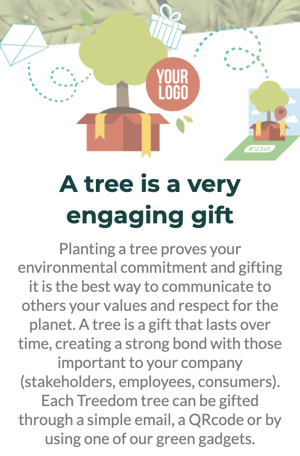 🎁 If you wish to gift trees to employees and customers, conveying your commitment to the environment, you will first need to create your business profile.
➡️ Click here to find out which type of account may be best for you!
👉🏽 Starter Solution:
after you register your account, you can purchase the trees you prefer and choose from the packages and individual species you will find in the dedicated e-commerce.
Once you have made your purchase, you can donate the trees to anyone you want and at any time 🌐
All you need to do is go to your profile, enter the area that is dedicated to your trees, and click on the menu button and then click on " Gift Your Trees."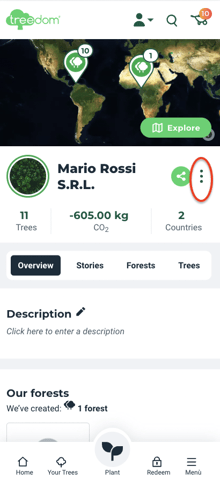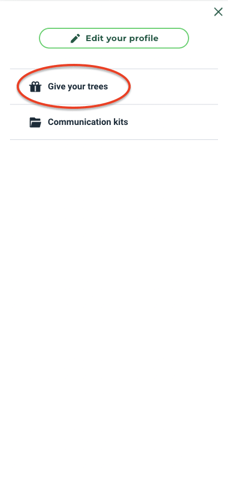 Follow the guided procedure and select the delivery method you prefer (ticket, email, or link).
👉🏽 Premium Solution:
you will be assisted by our professional team to bring your forest to life and deliver the gifts!
➡️ Learn more about corporate gifts by entering the dedicated section of the Treedom website by clicking here
---


❓ Frequently asked questions ❓
🥑 Do I have to gift the trees immediately after purchasing them?
👉🏽 Soluzione Starter: no, trees can be gifted at any time
👉🏽 Soluzione Premium: once you sign the contract, our team will provide you with a list of gift codes associated with your trees and you will have 12 months to gift them to your stakeholders
🥑 If I give a tree to someone, is it removed from my business page?
Trees will remain on your business profile even after you give them away. If the gift recipient redeems the tree on Treedom, he or she will become the "keeper" of one of your trees.
🥑 Can I personalize the trees I gift?
👉🏽 Soluzione Starter: each tree can be personalized with a name, and you can also add a message.
👉🏽 Soluzione Premium: if you have a Premium business account, our team will assist you and help you customize your forest!
🥑 Do you have to register to receive a tree as a gift?
Yes, to receive a Treedom tree as a gift, you must register (or simply log in if you are already registered). By registering, the recipient can follow the tree's story from their profile and receive updates.
🥑 Do we have to gift our trees?
No, you can simply leave them in your profile without gifting them.
🥑 What happens if a customer redeems the tree after the expiration date?
After the expiration date, the customer will not be able to redeem the tree.
---
---
Our dedicated team is available to guide you to the best solution for your business!
For more information, email us at business@treedom.net and you will be contacted as soon as possible!
---