In this article we have summarized questions we have received about subscriptions.
❗Frequently asked questions❗


How long does a subscription last?
🌳 The subscription runs monthly and remains automatically until you want to cancel it. If you cancel it, it expires at the end of the month of cancellation.
Can I cancel my subscription?
➡️ Yes, to do so simply go into your profile settings and click on the category "subscriptions". you can cancel your subscription whenever you want!
🌳 Can I define a fixed date, when my subscription starts or ends?
❌ No, there is no option available to select fixed dates. But there is always the possibility to cancel/delete the subscription.
Can I change my subscription?
🍃 Yes, you can change your subscription at any time from your profile settings.
Is it possible to place subscription trees in a forest?
❌ No, it is not possible to move the trees you receive with your subscription into a forest. They will remain in your profile.
Can I give subscription trees as gifts?
✅ Yes, of course! A tree can be given to a person of your choice.
🌳🌲🌴 Can I choose the species that will be assigned to me?
No, with the subscription you cannot choose species. Every month you will receive surprise trees!
🌐🗺️ Can I choose the country where to plant the subscription trees?
No, it is not possible to choose where to plant the trees. Each species is included in a project because of its characteristics and the benefits it will bring to that environment.

🔣 How does payment for subscriptions work?
When you activate a subscription, you can decide where to charge the monthly cost: You have the options of credit card, prepaid card or PayPal.


Once activated, you will not pay immediately: the first month you will receive free trees from us! You will only start paying from the second month after activation.

Check this article to know more about the payment methods
To manage your payments and know the date of each renewal, simply log into your Treedom account and access your settings.
Enter the area "your subscriptions", where you can change your payment method, deactivate your subscription and know the day when the next automatic transaction will take place.
Can I change the payment method?
✅ Yes, in the "your subscription" area of your settings you will find instructions on how to change your payment method.
🙈 🌳 Did everything go well? I did not get any confirmation about the start/change/end of my subscription.
In case you activate/change or cancel your subscription, you will get no confirmation via email or anything else. You will be able to see your chosen options in your profile settings (see below!)👤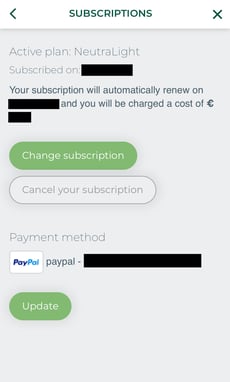 ❗I have a type of the subscription that Treedom no longer offer on the platform? ❗
It is possible that you have a subscription that has been replaced by our current offers. This is not a problem. Your subscription will not expire eventually. It will continue as normal until the point at which you wish to cancel it.
---
💚 We hope this article has been useful to you,
If you need any further information please do not hesitate to contact us!
Send an email to info@treedom.net
---